Bio

Drag Racer
Deric David Kramer was born June 10, 1985 in Sterling, Colorado. He is a 2003 Graduate of Sterling High School. After high school, Deric attended and graduated from DeVry University with an Electronic's Engineering Degree in 2007. He currently resides in Parker, Colorado. Deric has four sisters, Danielle Kramer, Christie Albers, Daria Kramer, Kelly Albers. His parents are Dave & Patty Kramer & Cheri Albers.
Deric made his racing debut when he was just 8 years old. He received his first car, a 1993 Spitzer Junior Dragster, on his 8th birthday. Deric enjoyed much success during his junior dragster years. During high school he raced a 1969 Camaro a few times and his senior year he drove his Dad's A/ED Fritz Dragster to get his license.
Deric took a break from drag racing while attending college. He returned to drag racing competition in 2007, driving a rear engine dragster built by Jerry Fritz and Sponsored by American Ethanol. Deric won his frist Wally at Yellowstone Drag Strip in Montana that year driving the dragster and competing in the Comp Eliminator class. In 2010, Deric became an NHRA National Record Holder in the Comp Eliminator class driving a new American Ethanol Dragster built by Jerry Fritz.
In 2012, Deric decided to transition into Pro Stock driving the American Ethanol Dodge Avenger. He raced the Avenger for three seasons until he crashed at the end of the 2014 season at the NHRA Toyota Nationals in Las Vegas. During the season Deric had placed an order for a new Lazarus Dodge Dart but due to the crash he ultimately ended up purchasing a Dart previously owned by Jegs Coughlin and ran that at most of the 2015-2016 races until the new Lazarus Dodge Dart was built. His backup racer for the second Dart is Richie Stevens.
In 2017 Deric decided to just go out there and have fun performing crowd pleasing burnouts that won him the title, "Burnout King". During the season his team decided to switch to running a Chevy powered car and placed an order for a Camaro to be built. Deric will debut an American Ethanol sponsored, Chevy Camaro at the Lucas Oil – NHRA Winter Nationals in Pamona, California the weekend of February 9-11, 2018.
The 2018 season is anticipated to be a very exciting venture. The American Ethanol-sponsored driver will return driving a Chevy Camaro with Ken Black (KB) Racing power under the hood. Deric is looking forward to working with KB Racing, home of the reigning world champion Bo Butner, Greg Anderson and Jason Line.
To be continued…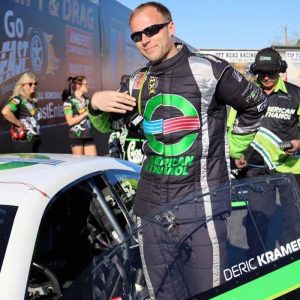 Historical Fencer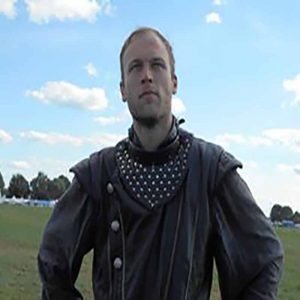 When Deric is not racing, he spends some of his spare time practicing and participating in SCA (Society of Creative Anachronism) fencing events. These events run from 5 days up to two weeks. Participants travel from many different kingdoms to attend. Deric typically attends Estrella War (February, in Arizona / Kingdom of Atenveldt), Pennsic War (July/August, in western Pennsylvania/Kingdom of Æthelmearc), Battlemoor (August/September, in Colorado/Kingdom of the Outlands) and the Great Western War (October, in Southern California/Kingdom of Caid).
SCA Fencing is a style of historical fencing. The primary focus is to study, replicate and compete with styles of rapier sword-fighting found in Europe during the Renaissance period, using blunted steel swords and a variety of off-hand defensive items.
Kingdom Membership is determined by your geographic location. Deric is a member of the Kingdom of the Outlands.
For more information on SCA fencing, go to http://www.sca.org/
IOS Mobile App Developer
Deric is currently employed by Blinker as an IOS Mobile Apps Developer. Blinker is an App that allows you to "buy, sell and finance cars with the snap of a photo". No Dealer Stress, you can buy or lease a car via the App. Blinker's been around since 2012 and was featured as one of 50 Colorado startups to watch in 2017. The company's app gives consumers the ability to post their car for sale, simply by taking a picture of it. Using the car's license plate, Blinker compiles data about purchase history, major repairs and accident history, bringing more transparency to the deal.

See how it works!